Salam and hello people : )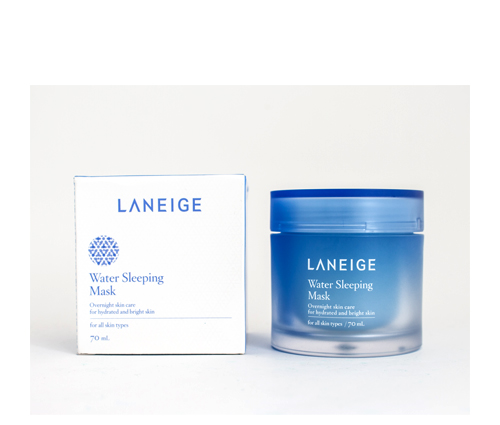 Laneige's unique Moisture-wrap™ technology uses effective ingredients of hydro ion mineral water contained in a biopolymer mineral network, evening primrose extract, and apricot extract to increase the skin's absorption and sustaining capabilities while you sleep.
The water Sleeping Mask is exclusively used as an overnight skincare product to optimize the condition of the skin for the following morning, as if the skin itself had a good night sleep!
Our skin loses a lot of moisture overnight, and the Sleeping Mask helps to lock the moisture in the skin overnight leaving it looking radiant the next morning.
The anti-oxidant function of apricot extract provides a brightening effect that makes the skin look even clearer and brighter by removing free radicals stressing out the skin.
The various effective sleeping care ingredients absorbed into the skin overnight leaves a smooth skin the next morning for even application of your makeup!
The lightweight gel Mask gives your skin a good rest by providing a refreshing and moisturizing feel to the skin without leaving any sticky residue.
Just before going to bed every night, apply the mask lightly and leave it overnight on the skin without rinsing it off. You will experience a softer and more supple skin after washing your face the following morning.
The natural scent is extracted from natural resources, so color variation may occur according to its origin and harvesting time. The color may differ as displayed, however the scent and function remain the same.
Pros:



• Mildly fragranced with roses.
• Improves overall skin health by providing intense hydration.
Highly fragranced formula can cause inflammation on and below the surface layer of skin.